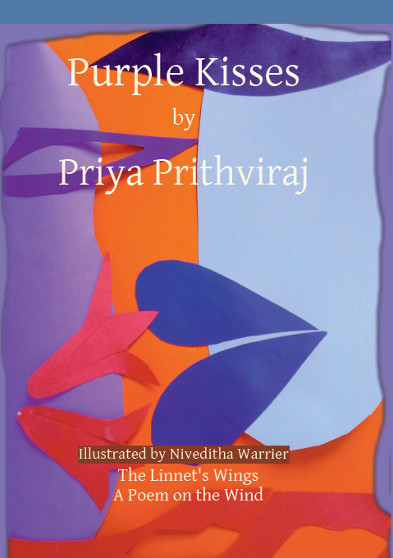 A Poem on the Wind (Our New Poetry Series)

This conversation between poet and artist has gone on forever, and this year "The Linnet's Wings" would like to explore it. What can an artist say about a poem and how might an illustrator expresses the sentiment that's trapped within 16 lines. -- 16 lines that might explode into a ball of energy as they drop into one's consciousness.

A poem that expands one's energy, can pull one's attention away from the regular media rough and tumble; from the fight for supremacy in goading media headlines, and leave one in a place that offers a better alternative, and it can tell a story: Poet's stories like artist's are everyman's too.

Kiplings' 'If' is one of my own favourites , and of course, Yeats' 'Aedh Wishes for the Cloths of Heaven' Both works are so well known and loved that once the titles are mentioned they immediately conjure up a feeling!

On the 30th Dec. 2017 ...The Linnet's Wings published an illustrated poem 'Purple Kisses' as an book. A short poem by Priya Prithviraj, that had been accepted for publication by our poetry editor, Oonah Joslin, and published in a previous issue of our magazine, came back to us, this time each line was layered by illustrations. Priya's illustrator, Nivedita Warrier, broke down the barriers, cut into the layers, and painted the picture from her pov. I have the tifs here, and they are beautiful.

To see inside the book or to buy the book please click on the link below.


If you would like to play this year, if you are a poet/illustrator, if you have partnered with an illustrator, artist or photographer, please send your work through to up at thelinnetswings@gmail.com ...

One poem only with illustration. Page Count: Minimum, 20 pages to include art and text, please, on A4 in pdf or word format.

We'd love to read, muse, and admire your skill, and consider it for publication.
Available to Buy Here: Purple Kisses by Priya Prithviraj (Author)